You can find the right hat size by making measurements.
Here is how to measure your head circumference:
1. Use a fabric or plastic tape measure.
2. Place the tape measure around your head, in the middle of your forehead and just above your ears.
3. Measure in centimetres or inches.
4. Find the correct size in the size chart.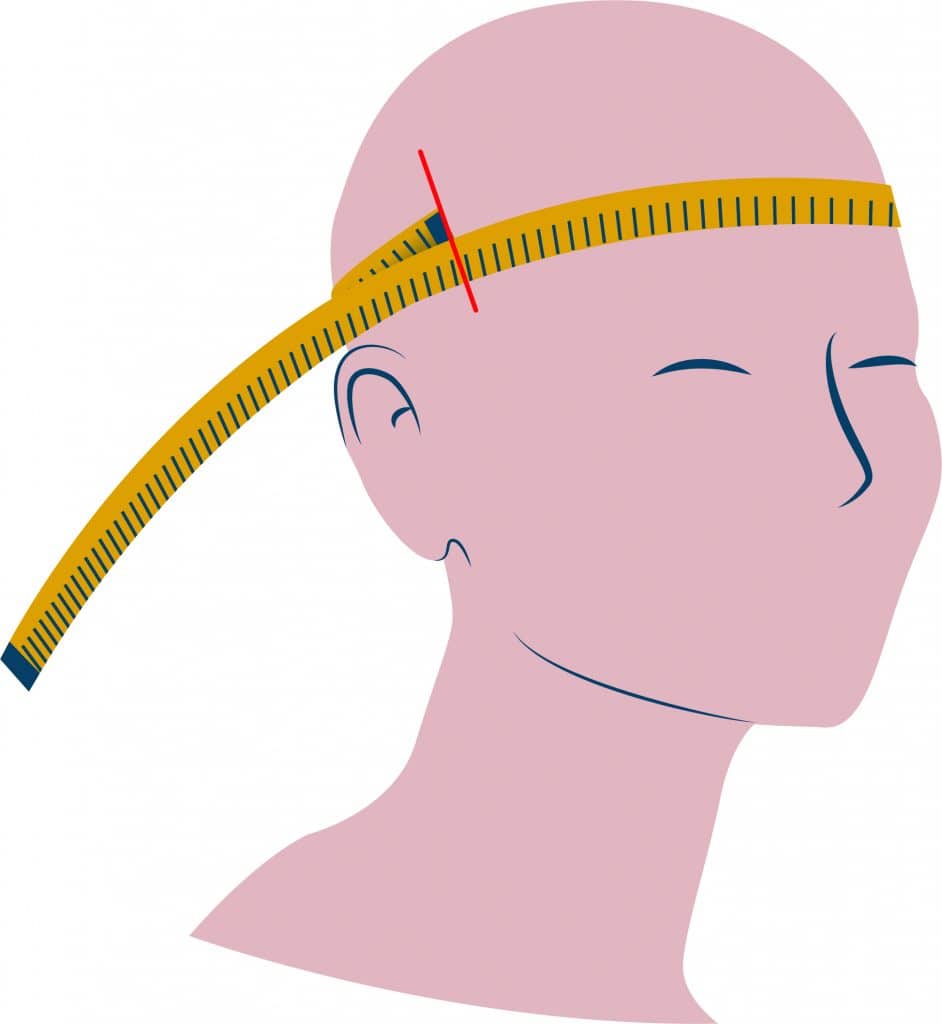 Tips:
– Measuring your head circumference can be tricky. Ask somebody to help.
– If you are in-between two sizes, we recommend a larger size – it is often more comfortable.
Hats
Our adult hat sizes are in centimetres to make size selection easy for you. Measure your head circumference above the ear horizontally from the head circumference and select the nearest size by rounding up.
XS / 54 cm – head circumferences 52–54 cm
S / 56 cm – head circumferences 54–56 cm
M / 58 cm – head circumferences 56–58 cm
L / 60 cm – head circumferences 58–60 cm
XL / 62 cm – head circumferences 60–62 cm
One-size hats fit many people but are best suited for head circumferences of 56–60 cm.
Beanies
The beanies are suitable for everyone, regardless of the size or shape of the head. The knit will be shaped and adapted with use, meaning that adult beanies fit head circumferences from 54 cm to 62 cm.
Children's Hats
The choice of hat size for children is as important as for adults. The hat should not squeeze or leave marks on the forehead, but it should not be too large, either. You can easily try on different hats at our store, but you can also measure your child at home. Measure the child's head circumference horizontally above the ear and select the nearest size by rounding up. You can also take a look at the size chart according to age.
48 cm <2 years of age
50 cm 2–4 years old
52 cm 4–6 years old
54 cm – 56 cm from 7 years of age upwards
Children's Beanies
The children's beanie is suitable for children under 6 years of age. For older children, we recommend the adult size. However, the knit is flexible, so the children's beanie is also suitable for older children and is occasionally bought by adults as well.
"The hat is tight, the size is too small, and there is a depression on my forehead after wearing it."
We hear this from our customers now and then, but do not worry! Our store has a free stretching service for Costo hats. The hat may be used or new, but remember that we only stretch Costo hats. We do not stretch hats from other manufacturers. Our hats withstand stretching and heat, but we do not know how the hats from other manufacturers behave. We stretch hats during store opening hours, and no appointment is required. It takes about half an hour, so be prepared to wait at least that long.
You will find hats and beanies for all weathers. We have divided the headwear into indicative seasons according to the materials and model. The easiest way to find them is to filter the products according to the season. The hats are made mainly of merino wool, which is a highly breathable and moisture-wicking material. As a material, merino wool works in both cold and warm – in winter, merino wool warms you and in summer it keeps you cool. There are no actual summer beanies in our selection, but unlined merino wool beanies are an excellent choice for warmer weather. Costo hats have clear summer and winter patterns. In addition, the hats have a wide range of different materials and fabric thicknesses. Most hat models can be used over several seasons.
The changeable pom-pom is the sign of a true Costo. The price of each pom-pom hat includes one pom-pom in the colour you desire. All pom-poms go with all pom-pom hats, but a pom-pom is by no means a mandatory addition – all our hats look good even without a pom-pom.
You can buy pom-poms separately. By changing the pom-pom colour, you can easily change the character of the hat. Have one pom-pom in the colour of your scarf and the other in the colour of your favourite jacket. When you have a variety, you do not necessarily need more hats.
Changing the pom-pom works in the same way as buttoning a shirt. All pom-pom hats and beanies have a buttonhole and the pom-poms have a button.
Check out the video below to see how to change the pom-pom, both on hats and beanies. Our first pom-poms had a snap attachment, but we soon replaced the attachment mechanism with a button, allowing use of the hat without a pom-pom. In 2018, the structure of the pom-pom was made even more durable. However, our pom-poms cannot stand rough treatment, such as pets or children playing with them. We recommend you keep them where they belong – as a decoration on our hats.
Hat and beanie models with an interchangeable pom-pom: 1. Kombai 2. Asmat 3. Hupla 4. Weo 5. Wau + children's Wau 6. Mibu 7. Bubu 8. Baia 9. Komboro 10. Birim 11. Goroka